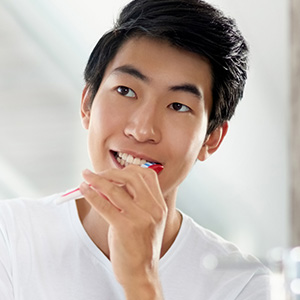 You already know the basics for healthy and attractive teeth and gums: brush and floss every day; and have your teeth cleaned and checked by a dentist every six months. But there are also some lesser known things you can do to improve what you're already doing—and some of them may go against popular wisdom.
Here then are 3 counter-intuitive tips for turbo-boosting your teeth and gum health.
Avoid brushing too hard and too often. While it may not seem like it, "The more, the better" isn't necessarily a good thing when it comes to brushing your teeth. Vigorous brushing several times a day could actually damage both your teeth enamel and your gums, eventually leading to problems like sensitive teeth. So, easy does it on the brushing pressure—let the mild abrasives in your toothpaste do the work removing disease-causing dental plaque. Likewise, avoid brushing more than twice a day.
Wait on brushing right after eating. If your first instinct right after a meal is to head to the sink to brush your teeth, curb your enthusiasm. Your enamel is actually in a slightly softened state right after eating and drinking because of an increase in mouth acid (especially if you've consumed sodas, sports drinks or juices). Saliva restores the mouth's pH balance and helps remineralize enamel in about an hour. If you brush before then, you could be sloughing off microscopic bits of enamel—an eventual problem if this is a regular habit.
Stop snack "grazing." If you're one of those that likes to munch on food throughout the day, you could be thwarting your overall efforts to maintain good dental health. Remember saliva? As mentioned, it effectively neutralizes acid in a few minutes. But continuous snacking maintains a constant high level of acid in the mouth—saliva has little chance to catch up. As a result, your mouth stays acidic, which can lead to higher risk of dental disease. If possible, limit your snacking to mealtimes.
These tips might be surprising, but they're based on sound science and research. Incorporating them into your regular, ongoing dental care, could increase your chances of healthy teeth and gums.
If you would like more information on how best to clean and care for your teeth, please contact us or schedule an appointment for a consultation. You can also learn more about this topic by reading the Dear Doctor magazine article "10 Tips for Daily Oral Care at Home."