Blog | Lenexa Family Dental| Dentist in Lenexa, KS
Posts for: April, 2018
By Lenexa Family Dental
April 20, 2018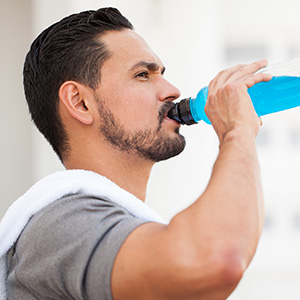 In the sports world, athletes are always looking for an edge. And it's not just college or professional sports—even Little Leaguers are focused on enhancing their performance.
That's why sports and energy drinks have rocketed in popularity. With marketing pitches promising to increase stamina or replace lost nutrients from strenuous workouts, it's not unusual to find these beverages in sports bags or the team water cooler.
But there's a downside to them regarding your dental health—they're often high in sugar and acidity. Both drink types could increase your risk of tooth decay or periodontal (gum) disease over time.
Sugar is a primary food source for the bacteria that can trigger a gum infection. They also produce acid, which at high levels can erode tooth enamel and lead to tooth decay. The risk for enamel erosion also increases with the drink's acidity.
You can lessen your risk of these unpleasant outcomes by restricting your consumption of these beverages. In fact, unless your sports activity is highly strenuous for long periods, your best hydration choice is usually water.
But if you do drink a sports or energy drink for an extra lift, be sure to take these precautions for the sake of your teeth:
Try to drink them only at mealtimes. Continually sipping on these drinks between meals never gives your saliva a chance to neutralize mouth acid. Reserving acidic foods and beverages for mealtimes will allow saliva to catch up until the next meal.
Rinse with water after your drink. Water usually has a neutral pH. This can help dilute mouth acid and reduce the mouth's overall acidity.
Don't brush right after drinking or eating. Increased acid that can occur right after drinking or eating can immediately soften tooth enamel, but saliva can neutralize and help restore minerals to tooth enamel within an hour. Brushing during this period could remove tiny bits of the enamel's minerals.
Taking these precautions will help keep sports or energy drinks from eroding your tooth enamel. Once it's gone, you won't be able to get it back.
If you would like more information on protecting your tooth enamel, please contact us or schedule an appointment for a consultation. You can also learn more about this topic by reading the Dear Doctor magazine article "Think Before You Drink: Sports and Energy Beverages Bathe Teeth in Erosive Acids."
By Lenexa Family Dental
April 10, 2018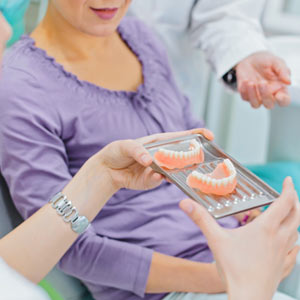 Twenty-six percent of American adults between 65 and 74 have lost all their teeth to dental disease. This isn't an appearance problem only—lack of teeth can also harm nutrition and physical well-being.
Fortunately, we have advanced restorative options that can effectively replace missing teeth. Of these, there's a tried and true one that's both affordable and effective: removable dentures.
Dentures are simple in design: a plastic or resin base, colored with a pinkish-red hue to resemble gums to which we attach prosthetic (false) teeth. But while the design concept isn't complicated, the process for creating and fitting them can be quite involved: they must conform to an individual patient's jaws and facial structure if they're going to appear natural.
If you're considering dentures, here's some of what it will take to achieve a successful outcome.
Positioning the teeth. The position of the prosthetic teeth on the base greatly determines how natural they'll appear and how well they'll function. So, we'll need to plan tooth placement beforehand based on your facial and jaw structures, as well as photos taken of you before tooth loss. We'll also consider how large the teeth should be, how far to place them forward or back from the lips, and whether to include "imperfections" from your old look that you see as part of your appearance.
Simulating the gums. While the teeth are your smile's stars, the gums are the supporting cast. It's important that we create a denture base that attractively frames the teeth by determining how much of the gums show when you smile, or adding color and even textures to better resemble gum tissue. We can also add ridges behind the upper teeth to support speech.
Balancing the bite. Upper and lower dentures don't operate in and of themselves—they must work cooperatively and efficiently with each other during eating or speaking. So while appearance matters, the bite's bite adjustment or balance might matter more. That's why we place a lot of attention into balancing and adjusting the bite after you receive your dentures to make sure you're comfortable.
This is a detailed process that we may need to revisit from time to time to make sure your dentures' fit remains tight and comfortable. Even so, modern advances in this traditional restoration continue to make them a solid choice for total tooth loss.
If you would like more information on denture restorations, please contact us or schedule an appointment for a consultation. You can also learn more about this topic by reading the Dear Doctor article "Removable Dentures."