Blog | Lenexa Family Dental| Dentist in Lenexa, KS
Posts for: September, 2020
By Lenexa Family Dental
September 17, 2020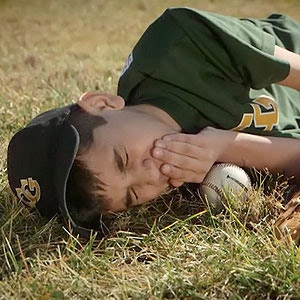 We Americans love our sports, whether as participants or spectators. But there's also a downside to contact sports like soccer, football or basketball: a higher risk of injury, particularly to the mouth and face. One of the most severe of these is a knocked out tooth.
Fortunately, that doesn't necessarily mean it's lost: The tooth can be reinserted into the empty socket and eventually return to normal functionality. But it must be done as soon as possible after injury. The more time elapses, the lower the chances of long-term survival.
That's because of how teeth are held in place in the jaw, secured by an elastic, fibrous tissue known as the periodontal ligament. When a tooth is knocked out some of the ligament's periodontal cells remain on the tooth's root. If these cells are alive when the tooth is reinserted, they can regenerate and reestablish attachment between the ligament and the tooth.
Eventually, though, the cells can dry out and die. If that has already happened before reinsertion, the tooth's root will fuse instead with the underlying bone. The tooth may survive for a short time, but its roots can eventually dissolve and the tooth will be lost.
Your window of opportunity for taking advantage of these live periodontal cells is only 5-20 minutes with the best chances in those earlier minutes. You should, therefore, take these steps immediately after an injury:
Find the tooth, hold it by the crown (not the root end), and rinse off any debris with clean water;
Reinsert the root end into the empty socket with firm pressure;
Place clean gauze or cloth in the person's mouth between the tooth and the other jaw, and ask them to bite down gently and hold their bite;
Seek dental or emergency medical care immediately;
If you're unable to reinsert the tooth, place it quickly in a container with milk and see a dentist immediately.
You can also obtain an Android or IOS smartphone app developed by the International Association of Dental Traumatology called ToothSOS, which will guide you through this process, as well as for other dental emergencies. The quicker you act, the better the chances that the injured person's knocked out tooth can be rescued.
If you would like more information on what to do in a dental emergency, please contact us or schedule an appointment for a consultation. You can also learn more about this topic by reading the Dear Doctor magazine article "When a Tooth is Knocked Out."
By Lenexa Family Dental
September 07, 2020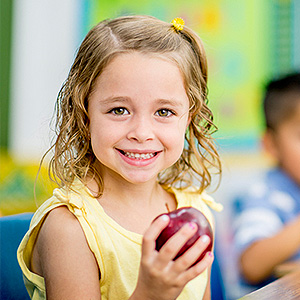 Besides daily hygiene and regular dental visits, the best thing you can do for your kids' dental health is to see that they're eating a nutritious diet. And not just at mealtime—healthy snacking also promotes healthy teeth and gums.
Healthy snack foods are quite similar to their counterparts at mealtime: fresh fruits and vegetables, whole grains and low-fat dairy. At the same time, you should avoid providing processed snacks high in sugar, salt, unhealthy fats and calories.
Managing snack choices at home is usually a simple matter of discipline and follow-through. When they're at school, however, it's a bit trickier as they may encounter snacks sold on school grounds or offered by fellow students that don't meet your definition of a healthy food. Public schools follow nutrition guidelines from the U.S. Department of Agriculture (USDA) on snacks sold on school grounds, but many dentists don't believe the standard goes far enough to protect dental health.
So, what can you do to combat these less healthy snack choices your kids may encounter at school? For one thing, you can work with your child's school officials to exceed the USDA guidelines or turn off snack vending machines right before lunch to lessen kids' temptation to skip lunch.
You can also interact with your children to better manage their schooltime snacking. But rather than issue blanket commands about what they should snack on at school, help them instead understand the difference between nutritional foods and less nutritional ones, and why it's important to choose healthy snacks for their life and health.
Finally, don't send them to school empty-handed—pack along nutritious snacks so that they won't seek out vending machines or their classmates to satisfy the munchies. You can supercharge your efforts with a little creativity (like a dash of cinnamon in a bag of unbuttered popcorn) that make your snacks fun and more enticing than other school ground options.
It's not always easy to keep your kids from unhealthy snack choices. But with a little commitment, interaction and ingenuity, you can help steer them toward snacks that are tooth-friendly.
If you would like more information on boosting your child's dental health, please contact us or schedule an appointment for a consultation. You can also learn more about this topic by reading the Dear Doctor magazine article "Snacking at School: How to Protect Your Child's Teeth and Promote Good Nutrition."