Blog | Lenexa Family Dental| Dentist in Lenexa, KS
Posts for: November, 2021
By Lenexa Family Dental
November 20, 2021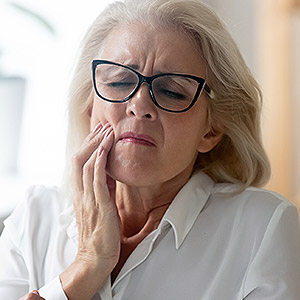 Physical pain is unpleasant—but not knowing why you're hurting makes it worse. Thousands of people encounter such as experience when parts of their face suddenly and mysteriously erupt in pain.
Often, though, the mystery can be quickly solved—more than likely, it's a nerve disorder known as trigeminal neuralgia (TN). Typically seen in people over 50 (and in more women than men), TN is a chronic condition that produces brief episodes of acute, spasmodic pain.
The source of this pain is the trigeminal nerve, which courses down each side of the face. Each nerve consists of three distinct branches that serve the upper, middle and lower areas of the face and jaw.
Physicians usually find that a blood vessel has come in contact with the nerve at some point, and the resulting pressure has damaged the nerve's outer insulative layer (myelin sheath). This causes the nerve to become hypersensitive at the point of contact, overreacting in a sense to the slightest touch (even a wisp of wind) on the face and jaw.
TN isn't the only source of facial pain. It can also accompany other conditions like TMD, which is why it's important to undergo a diagnostic examination. If you are diagnosed with TN, there are a number of ways to manage it. The most conservative approach (and the one usually tried first) is the use of medications to block pain signals from the nerve to the brain or to lessen abnormal nerve firing.
If medication proves ineffective or there are other factors related to age and health, you may be a candidate for a surgical solution. In one such procedure, a surgeon inserts a thin needle into the affected nerve and selectively damages some of its fibers to prevent the transmission of pain signals. Another procedure relocates the impinging blood vessel, which then allows the nerve to heal.
These surgical methods are effective but they can cause side-effects in rare cases like numbness or hearing impairment. It's best then to discuss with your doctor which approach would be best for you and your life situation. Ultimately, though, there are ways to relieve you of this painful condition.
If you would like more information on treating facial pain, please contact us or schedule an appointment for a consultation. You can also learn more about this topic by reading the Dear Doctor magazine article "Trigeminal Neuralgia."
By Lenexa Family Dental
November 10, 2021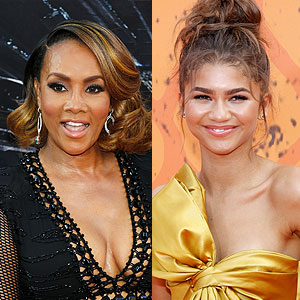 Kill Bill fans have been pressing for a third installment of the stylized revenge tale since Kill Bill, Volume 2 hit the theaters in 2004. Finally, filmmaker Quentin Tarantino is talking about the long-awaited Volume 3 as if it might soon become a reality. The third movie in the franchise would most likely focus on the now-grown daughter of the character played by Vivica A. Fox in the first two. Vivica recently made known that should Kill Bill, Volume 3 go into production, she thinks 24-year-old actress and singer Zendaya would be perfect for the role.
Although Zendaya is a few inches taller than Vivica, the two women have a few things in common. Besides being talented movie and television actresses who have won awards for their roles, they both have camera-ready smiles. And both Vivica and Zendaya can thank their dentists for helping their smiles be their best.
In 2016, Vivica told Dear Doctor magazine that her smile needed a boost, so she opted for dental veneers to correct gaps between her teeth—and she's very happy with them. "I love my veneers!" she exclaimed. Zendaya also had help in achieving her Hollywood-perfect smile. In 2011, early in her career on the Disney channel, she wore clear orthodontic aligners to straighten her teeth. To further perfect her smile, she visited her dentist for professional teeth whitening in 2016, inviting a film crew along to show how easy and effective in-office tooth whitening is.
But you don't have to be a celebrity to enjoy smile-enhancing dental treatments. They are great options for anyone who wants to improve the look of their smile.
Teeth whitening. If your teeth are looking yellowed, in-office whitening can make them up to 10 shades brighter in one visit! Some people prefer professional at-home whitening kits, which produce great results more gradually.
Bonding or veneers. For small chips and cracks, cosmetic bonding can cover flaws by adding layers of a tooth-colored material over the tooth. For bigger flaws, heavy discoloration or gaps between teeth as Vivica had, dental veneers may be the answer. These custom-made thin porcelain shells cover the front-facing surface of the tooth, hiding imperfections to give anyone a Hollywood smile.
Orthodontics. Crooked teeth can detract from the look of a smile. While traditional braces are an option, many people with mild to moderate alignment issues find removable clear aligners the perfect way to get the smile they desire with minimal impact on their daily activities. Clear aligners are very subtle and can be removed for eating and cleaning as well as for special occasions—or for filming scenes, as Zendaya knows.
Contact us or schedule an appointment for a consultation to see if professional teeth whitening, cosmetic bonding or veneers, orthodontics, or another dental treatment could enhance your smile. You can also learn more by reading the Dear Doctor magazine articles "Important Teeth Whitening Questions Answered" and "How Your Dentist Can Help You Look Younger."